Ward Bean
---
I am one of those fellows you hear about who was lucky enough to be offered a buyout long before I thought I could retire. Early retirement was great. Finally, I was able to tie flies whenever the spirit moved me, and I could fish for bass and panfish anytime, not just on weekends and holidays.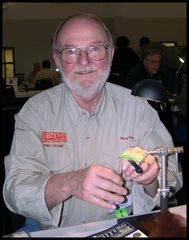 Throughout my career as a college educator I often dreamed about how good life would be if I could "chuck it all" and become an outdoor writer. But the pragmatist in me always argued that "chucking it all" was not in my family's best interest. Ironically, retirement helped make that dream come true. Soon after I stopped going to the office every day, I tried my hand at free lance writing and my fly patterns, tying tips and feature articles began to appear in Fly Tyer Magazine, Warmwater FlyFishing, and Fly Fishing and Tying Journal.
My fly patterns also made their way to fly fishing web sites beginning with a series of flies, "Ward's Woolheads" appearing on eflytyer.com. Later, a great bluegill fly pattern, "The Fox Tail Grub," joined other patterns on WarmwaterFlyFisher.com. Since then my patterns have appeared on several other fly fishing web sites.
In 1999 Dr. Tom Whiting of Delta, Colorado, invited me to join the Whiting Farms Pro Team. The Whiting Pro Team is a select group of fly tiers from the United States and several other countries who test and promote Whiting hackle products. Some of my fly patterns featuring Whiting fly tying feathers appear on WhitingFarms.Com and also on the back cover of the current Whiting American Hackle Catalog.
I annually attend several fly fishing shows and conclaves including two of the country's best, the Northwest Arkansas Fly Fishers Sow Bug Roundup in the spring and the Federation of FlyFishers Southern Council Conclave in the fall. As a Guest Tier, I'm priveleged to share my fly patterns and tying techniques with folks of all ages and skill levels. It's especially rewarding to be with youngsters who listen intently as I describe what I'm doing. And it's a real treat to see their reaction when I present the finished fly to them.
My goal is for Warmwater Fly Tyer to be a work in progress with new fly patterns and fly tying techniques posted frequently. As Warmwater Fly Tyer evolves, I hope that it will meet my expectations and yours as well.
Ward Bean
Council Bluffs, Iowa
March 2004
---