---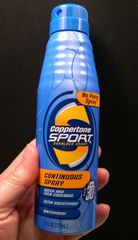 Coppertone Sport - The Angler's Sunblock
Over the years, like many folks, I occasionally used suntan lotion. It never seemed to be a priority. Especially, when I was younger and thought it was cool to have a great tan. I am now paying for that foolishness by finding it necessary to have a checkup with my dermatoligist each year.
The last time I visited my dermatoligist I opined that my suntan lotion was not only smelly, sticky, and generally uncomfortable to wear, but it ultimately migrated from my face to my eyes causing a stinging and bruning sensation. I also worried that it might cause permanent damage to my eyes.
Without hesitation, he recommended a product called Coppertone SPORT sunblock spray.
I began using Coppertone SPORT and have concluded that it is the best sunblock I have ever used. Here's why.
It's UVA and UVB value is SPF 30.

It is waterproof and ultra sweatproof.

As the day gets warmer it won't migrate from your face to your eyes.

It comes in a no pump spray bottle. A continuous spray gives even coverage.

It contains no CFC's which deplete the ozone layer. Other no pump spray bottles can't make that claim.

Under normal circumstances you only have to apply it once in a 6 to 8 hour outing. The exception would be if you experience excessive persperation.

It is applied by spraying as opposed to rubbing.

The formula is oil free so it goes on quickly and dries in seconds.
We all know what suntan lotion can do to fly lines. And, we certainly don't want the lotion's odor to "stink up" our wet flies when we're tying them to the leader. That's always been a concern when I used the "rub-on" lotions. With, Coppertone SPORT that's not a problem if you apply it properly.
I have encountered only one minor difficulty in applying it. You can't spray it on your face. You have to spray it into your hand and rub it on your face.
I have overcome that problem by applying the sunblock before I leave home. I apply it to my face, wash my hands throughly with soap and water, and then spray the back of my hands. That leaves my fingers free of any sunblock that can harm my fly line as well as any odor than can foul my flies.
---