Published Articles
---
---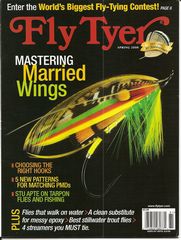 Over the years I have written several articles for Fly Tyer Magazine. If you would like to read any of those articles, click on the link(s) below.
You will need Adobe Reader to read the articles. If you don't have Adobe Reader on your computer you can download it at no cost to you by clicking on the Adobe Reader icon on the bottom of the home page.
David Klausmeyer, the editor of Fly Tyer, welcomes submissions from new authors. If you have an interest in writing an article for Fly Tyer, contact me and I will share my thoughts on how to get your work published along with the Editor's Style Sheet and Author's Guidelines.
By the way, if you're not a subscriber to Fly Tyer Magazine, you should be. It's the best fly tying magazine in the world with over 40,000 subscribers. Click on Fly Tyer Magazine for subscription information.

Fly Tyer Magazine
---


Rubber Hackle Hair Bugs - Summer 1999


Blended Deer Hair - Autumn 1999


The Hairy-Mara - Autumn 2000


The Fence Rider Frog - Spring 2002
---


The Red Faced Wobbler - Spring 2008


Lacey Gee's Gimp - Winter 2008


Beaner's Baitfish - Autumn 2009


Perfect Poppers for the Topwater Bite - Summer 2010